Streaming Audio
Our API allows you to add streaming functionality to your website with just a few lines of code cutting your development cost and in some cases eliminate the cost all together. The artist still retains full control of their content. The artist can also disable downloads.
Mobile Ready
Add music to your iOS or Android app with ease using our API. Mobile accessible music must pass high quality standards and it is made available in both 320kbps (13Mb) for WiFi streaming and 128kbps (5Mb) for data streaming.
Full Stats
Retrieve stats from multiple platforms with our API. Create artist accounts and manage artist promotions. This is an ideal option for companies like Music Distribution companies who already have a management role with other record labels.
A Symbiosis Partners account is required. Contact Us
---
Let's Get Building!
In need of a developer? We can help! Our API developers can now also be your web developers saving you from having to pay another developer to learn how to effectively use our API.
Get Started
Contact Us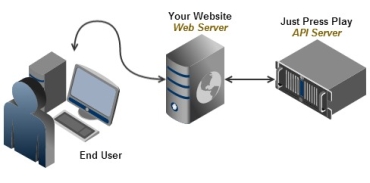 24/7/365
Unlimited support in minutes
From your dashboard
Ask us about anything
Live Chat
Live chat via Skype
Text message alerts
Real-time QA monitoring
Community
Facebook embed music player
Easy share options
Designed for social growth